New Year New You!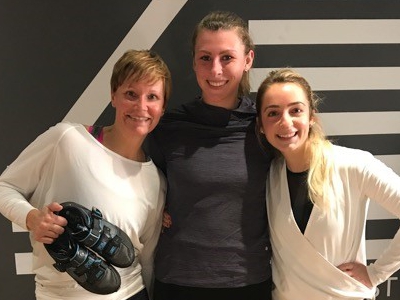 With my newly found motivation I dusted off my spin shoes and got my butt to a new class at B/Spoke in Wellesley.  After too many holiday celebrations and snow days I was really feeling the need for something new and different.  I rounded up a couple of my clients to go with because it is always a little less intimidating to try something new if you have a wingman.  Spinning isn't new to me.  I actually teach spin classes.  This doesn't mean it's easy to try a new place. New can be intimidating.  Every teacher has a different style and some studios can be a little more welcoming than others.  Plus it can be so easy to get comfortable and just stay in your lane.  I want to stress how important it is to get out there and try something new!
I am always preaching to my clients about introducing variety into their routines to get the best results.  Many people do one or two different forms of exercise which is great. Adding something new is even better.  Some people are not doing any form of exercise when they come to see me.  The biggest reason why seems to be because they really don't like exercise.  My response is that they haven't found the right activity yet.  There is some form of movement out there that holds a bit of appeal or interest to everyone.  You just have to muster up the courage to try it!  My kids have tried so many different sports and activities I've lost count.  It gets hard to keep up with but I really want to encourage them with this so that they will have many physical choices to draw from the rest of their lives.  The great thing is that they are always up for trying new things and don't feel silly being "new" at it.  They don't seem to think much beyond the fact that they are excited about something different and new to them.
My point is we all need to be more like kids and get out there and try new things.  If you are currently doing exercise but not much variety or no exercise at all I challenge you to get out there and try a new class or join a friend who you know is doing some activity you might be interested in.  Even though I am currently doing many different forms of physical activity I found a different class to go to and that was a great way for me to mix it up.  It always feels good to get out of your comfort zone even if you end up not loving what you tried.  You don't know until you try right?  Keep it fresh, you are much less likely to get bored and the new challenge will stimulate your brain AND your body! Don't over think it.  I know it can be difficult but find a wingman, and find a different activity to try before the month is up.  I promise you will feel better!
By the way, B/Spoke was a great class!  Staff was helpful and knowledgable, studio was awesome.  So glad I finally made it there.  Gotta figure what to try next, any suggestions on great classes welcome!
---
---