Workout Equipment for Home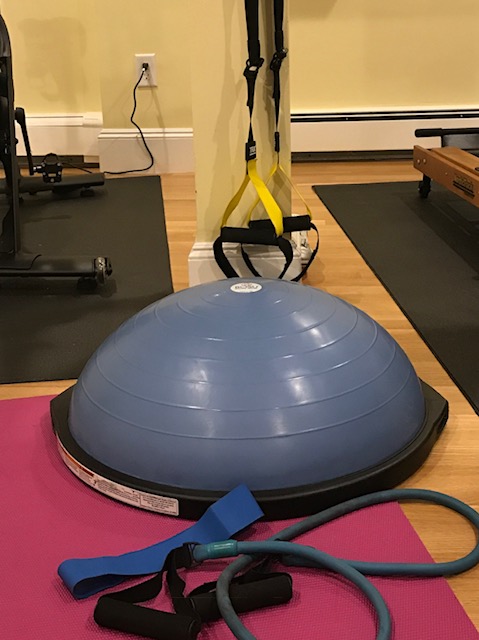 Clients are always asking me what the best equipment for home is so I thought I would talk about some of my recommendations.  Most people do not have a huge space to workout in at home so the suggestions I am making here are for a few pieces of equipment that won't take up much storage or workout space in order to use them.  I'm also choosing items that will not break your bank.  These few things should add enough variety and options of difficulty to keep all levels of fitness happy.  So  enough already, here is my list of  "must haves" for your home gym.
TRX Suspension Trainer-This is my favorite and most used piece when working with clients at home.  It can be used in many different ways to target every part of the body.  The best thing about the TRX is that it constantly forces you to engage and work your core through EVERY exercise so you really get the best bang for your buck when it comes to overall strength work.  The TRX comes with a video to get you started, or of course you could hire me to teach you the basics and beyond.  It takes a little practice to get use to it but once you feel comfortable you will definitely love it!  It can be attached to a door (with an door anchor), a tree, or you can put an anchor to your ceiling or wall to attach (also requiring another piece sold by TRX).  You must be sure of how you are anchoring it to insure safety.  There are many instructions available on how to do this.  TRX can be purchased online through their website trxtraining.com. A basic TRX cost is $179.
Boss Balance Trainer-This is a half ball that is used for many different exercises also.  I love the challenge it brings to balance and core stability.  This also comes with a booklet and a video to help you get started.  I use the Bosu for lunges, squats, cardio, ab and upper body work.  It is another versatile piece that can really help strengthen small muscle groups, tendons, and ligaments that can otherwise get neglected.  You can buy the Bosu at Target for $99.99 but I've also seen it cheaper on Ebay or Amazon.
Jump Rope-This is so easy!  They are inexpensive (usually $10-20 for a good one) and you can buy them anywhere. I have found them at Target, Marshalls, Dicks, Amazon, and pretty much any sporting goods store.  They take up no space to store and can easily travel with you.  Jumping Rope burns 10 calories per minute. So just 10 minutes is 100 calories! This is such a great option for cardio work if you have no space for a treadmill or any other big piece of equipment.  I like to mix in the jump rope between strength sets to burn extra calories and get that heart rate up.
Resistance Bands-Another super easy add on!  These also are inexpensive (prices can range from $10-50 depending on package) and can be found anywhere (same as the jump ropes).  My clients who travel frequently take these with to use in a hotel room. I use the bands with handles for upper body and the smaller flat circular bands for leg, hip, and glute work.  They are typically sold in packages of 3 or 4 and vary in resistance so perfect for different needs.
Hope this information is helpful!  please feel free to contact me with any questions or any other new ideas for at home workout equipment.  My goal is to make exercise convenient  and motivating to all!
---