June Challenge-Berry Easy!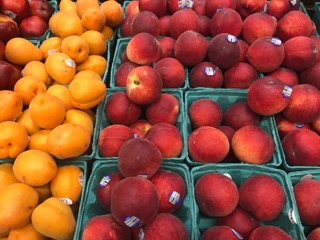 This month I want to challenge you to eat 3-5 servings of fruit everyday.  Most people do not get enough fruit intake daily and many are worried about the sugar content.  If you eat the whole fruit (not fruit juice!) it typically has little effect on blood sugar levels.  The high amount of fiber in fruits can actually help control blood sugar levels by slowing digestion and absorption of sugar.  Fruit is high in water content and low in calories so it can really keep you satisfied.  You can add it to meals or snack on it throughout your day.
Here are the fruits in season for June.
Apricots, Cherries, Melon, Pears, Plums, Peaches, Nectarines, Raspberries, Strawberries, Currants, Gooseberries, and Mulberries
So the most important reason to eat fruit IN MY OPINION is for the vitamins and antioxidants they provide.  I'm just going to talk about a few examples.  Apricots are good source of Retinol and Beta Carotene which helps immune system and fight against eye diseases.  Strawberries are high in Vit C and a good source of folate, potassium and anthocyanins which help protect the nervous system and blood vessels and help to protect and fight against serval types of cancer.  Raspberries also contain Vit C , anthocyanin, phosphorus and selenium which also helps fight cancer and control blood sugar levels.  Peaches, also high in Vit C are known to fight cancers, diabetes, obesity, and heart disease.  They are a good source of Vit C, A, E, and K.  They contain calcium, iron, magnesium, phosphorus, and potassium.
Eat varieties of fruit everyday to get the most benefit from these fabulous foods.  There are so many reasons to eat them and they taste so good!  You can top your plain greek yogurt, oatmeal, or pancakes with fruit.  Make some a smoothie with different kinds of fruits.  Add fruit to your salads with greens or quinoa. Freeze berries to put in seltzer water for a refreshing summer drink. Eat them just as is for a snack.  The options are endless!
---
---